Many key tasks in the production environment like inspection, orientation, identification, and assembly, require the use of visual techniques. Nothing beats human vision for versatility, but human weaknesses limit productivity in a production environment. Visibility, eye estimation, manual instruction, boredom, distraction, fatigue, and sometimes even malice can degrade human performance. Totally integrated automation is the answer of all such human weaknesses. The USIT automation system is the first step toward better, faster, more flexible, intelligent and accurate production.
Challenges
Features
Benefits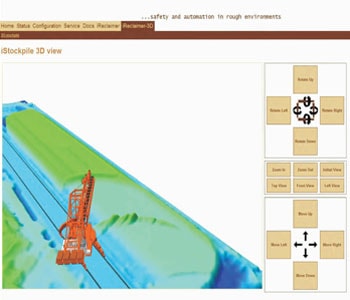 Automation
As per the work order generated by the operator sitting in the control room, the RMMS software calculates all the required positions like linear travel distance, slew and luff angle of boom as per the stacking or cutting instruction and sends instruction to the PLC. The machine automatically moves to the calculated starting position and handles the job as per the instruction.
iRRU is connected to the 2D Rader (used for stock profiling) and D-GPS(used for physical condition of the machine). The operation is continuously monitored and calculated by iRRU and the calculated data is sent parallel to PLC. As soon as it reaches to the desired results, PLC will trigger stop signal to bring operation to halt.
How an operator can realistically measure the distance to the face or cutting depth with his bare eyes? Is it 15m, is it 16m? this "tiny" difference has a big impact on the operation! Operators are forced drive by feeling, judging vibrations and waiting for slewing out of the pile. Get real-time and highly accurate information on cutting span depth, detect the bench edge height to automate stacker boom return movements, or make use of the many other monitoring options.
It Helps :
Pile dressing as per the SOP and avoidance of moon surface.
Increasing storage capacity and reclaiming performance
Full utilization of equipment and stockyard
Predefined stacking methods, such as Windrow, Chevron and Cone shell
No over torque of machine means no overloading of conveyor belt
2D profile / 3D scanning for high accuracy.

Insensitive to high environmental stress (dust, vibrations, wind, fog, snow, rain and thunderstorms).

Constant update of the model at a measurement frequency of 15 Hertz.

Industrial enclosure Ip66

Contact-less measurement of luff & slew angle using D-GPS with precision accuracy.

Safe and secure Man-less operation

Exact inventory control
Increased throughput

Better utilization of the stockyard

Improve stockyard visibility from arrival till dispatch

Improve decision making Manage multiple stockyards with ease

Smooth plant integration

Minimal maintenance and cleaning

Maximize operator efficiency

Achieve accurate 2D / 3D snapshot of stockyard
Real-time measurement during normal operation

Operable under all environmental conditions

3D anti-collision system to avoid costly error

Eliminate air reclaiming, ground digging, overloading / under-loading

Full statistics and production history

Optimal allocation of zone / section in stockyard

Better stacking & reclaiming plan