A single data source to provide real-time visibility of equipment, inventories, and associated quality levels across the supply chain. It helps organization to increase the efficiency of the equipment, manpower and minimize / eliminate the risk like collision, overloading / under-loading of inventory etc. USIT provides an integrated view that includes process and quality information and it helps in real-time decision making, dynamic responses to process variations, and efficiently satisfying order specifications.
Challenges
Features
Benefits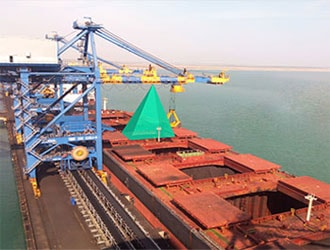 Equipment Efficiency :
The equipment efficiency depends on their utilization and it can only be evaluated when the efficiency of equipment is measured on a real time basis during operation. The RMMS tracks the operational efficiency of each equipment on the real time basis and compare with their SOP. It helps to increase the productivity of the equipment by more than 10%. It also helps to provide the real time information of inventory being handled by the equipment.
Inventory Loading
The conventional way to know the material weight inside the hatch of a ship is thou draft weight of ship. This is internationally accepted system and no one challenges this system but everyone is looking for some alternative system to validate the weight. The USIT system tells the exact volume of the material gone inside the hatch.
Hatch Scanning
Looking inside hatch from a far distance is a real challenge. The 2D Radar helps to scan the material falls inside the hatch and the surface of the pile. This system guides operator to fill material at the maximum allowable height and weight. It also helps to dress the surface of the pile.
High precision 2D Radar scanners to efficient scan the material inside a hatch.

Detect the height and volume of the filled material to allow for filling the material inside hatch to the maximum allowed limit.

Measure the volume of material passing through the conveyor belt to the ship loading station.

Measure the equipment efficiency.

Detect the gap between ship navigation system and GSU to avoid collision.

Detect the edge frame of the hatch to avoid collision between grabber and hatch edge.

Detech the object (Dozer) moving inside the hatch to avoid collision between grabber and dozer.
Increased operational visibility - faster and smarter decision.

Increased safety - increased equipment life and improved operational environment.

Optimal utilization of equipment - increased equipment productivity.

Shorter lead time - increased manpower / equipment utilization.

Reduced / eliminate demur-rage - increased profit margin.

Optimal utilization of ship hatch capacity - reduced transportation cost.