Absolute Positioning & Tracking System (APTS) is a comprehensive yard management system that leverages Radar technologies to give you real-time information of the yard. We combine Radar with the most advanced business rules and processes to automate work-flow and events across yard operations. This combination provides the ability to stack the inventory optimally and track the location and status of all inventories located anywhere within the yard within no time. This system also provides robust event management capabilities and alert notifications, while helping to reduce the manpower associated with moving and managing yard assets. Manual, paper-based systems are incapable of providing this type of up-to-date information, and are much more time-consuming and prone to error. It's a 100% web-based system and helps bridge the gap between manufacturing, warehousing and transportation.
Our solution offers full automation, visibility and optimization from the time a material gets produced, to the roller table/saddle, to the movement of transfer car/trailers around the yard, to the time a transfer car/vehicle leaves the gate.
Operational Challenges addressed by USIT :
Visibility
You have hardly visibility despite your efforts to maintain a yard inventory and track your activities, you can never rely on complete accurate and up to date information.
Manual system to track your yard.

No visibility on what is happening inside the yard

Inventory mismatch
Mess
You are constantly in a reactive mode addressing emergencies and finding temporary fixes to make up for the chronic chaos in the yard.
No business rule to stack and dispatch inventory optimally.

Constantly compensating for human errors and compromising with business.

No centralized control to monitor the priorities, performance of assets and asset handlers.

Work load is not distributed properly hence no productivity measurement.

Manual communication through Radio between crane operator, yard operator and control room operator.
Cost Center
How much your yard operation cost you? You realize that the manual approach generates many gaps which in-turn block your cash flow and you can no longer afford this status.
Working hours of critical resources are utilized to compile the job done and to generate consolidated report before assigning everyday job to the operator.

Search of material vs. man-hour

Diversion of inventory from actual sales order to non confirm order means base price reduction of inventory.

Scrap generation increases.
USIT's Absolute Positioning & Tracking System (APTS) provides an efficient solution to optimize crane movement and track & locate material in a yard. It enables companies leverage their information assets through improving the efficiency of the logistics operations and inventory management.
Get the information as and when you need: APTS offers real time visibility of the yard and their activities and track the every movement of the inventory, assets and asset handlers. A mouse click is enough to know the yard condition, the work load assigned to the operator and to generate consolidated report for the management, truck/trailer position etc.
Everything is now in place: The inbuilt business rule brings optimization and automation of the yard operations. Their integration capability greatly reduces manual intervention and extends visibility throughout the enterprise. The stack & trace function helps operator to keep inventory at the designated place. No human movement is required within the yard to search material as everything is available through integrated system in the control room.
Decreased operational cost: The diversion of inventory from actual sales order to non confirm order or scrap generation due to lack of information will be eliminated completely. Also the performance of all asset and resources are monitored on a real time basis which helps to increase their productivity. The scheduled approach to load the truck/trailer helps to schedule entire activities of the yard and it helps to increase the loading efficiency. It is possible only because you have complete information of inventory, incoming truck/trailers available and work load distribution list. All these parameters help to decrease operational cost and increase profit margin.
3D View for Real-time Operations and 2D view for Configuration :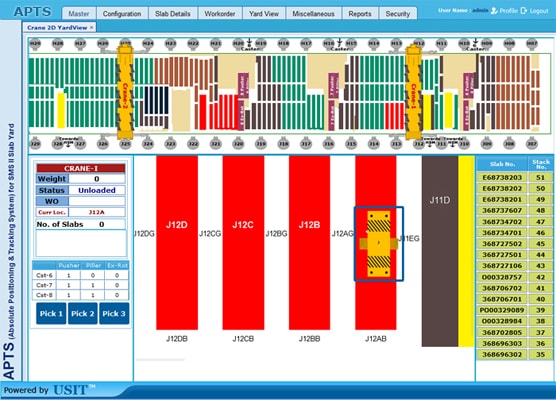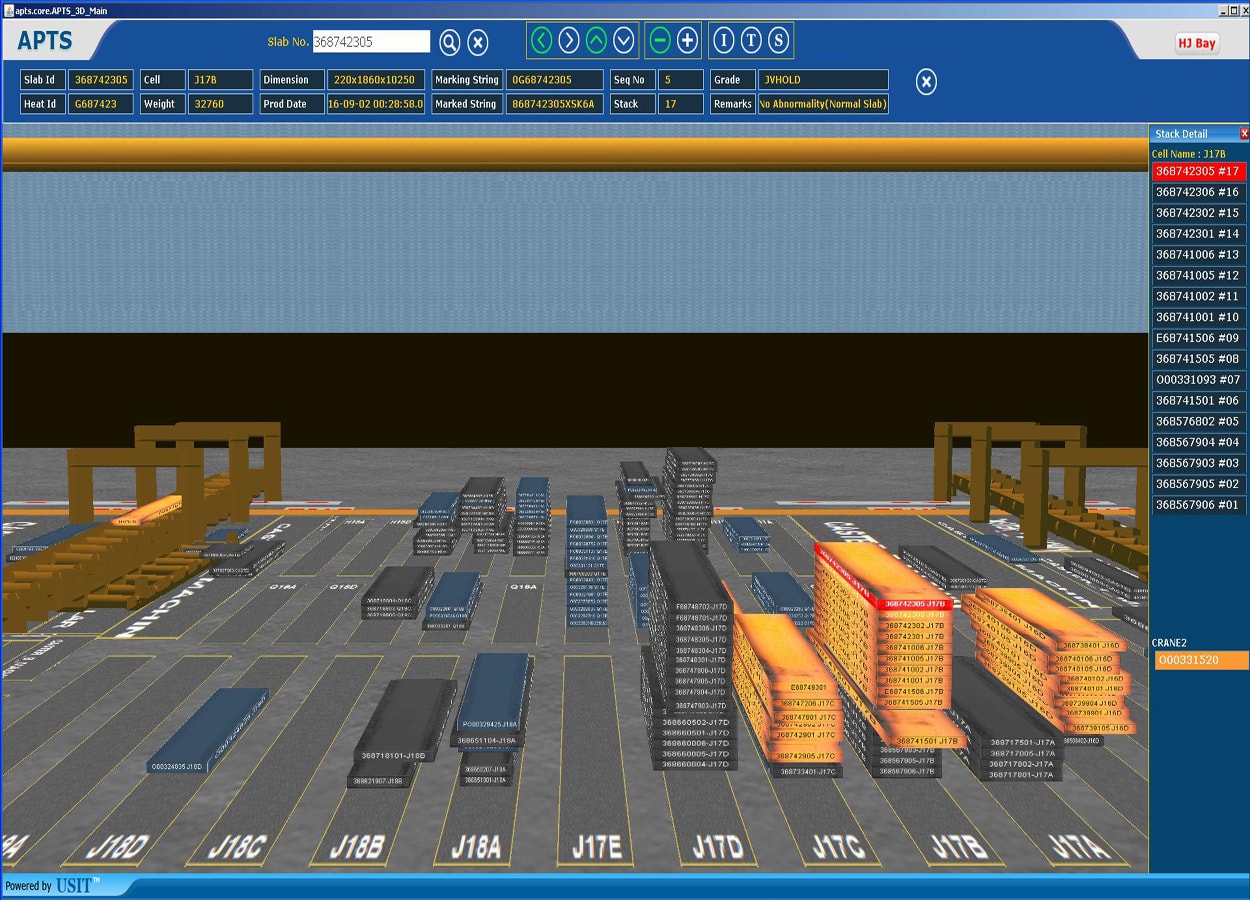 APTS system tracks the material from its generation, transport till the dispatch via transfer car or trailers

The system generates the work order in optimistic way considering the crane load and location. APTS uses standard algorithms and material stacking rules for simulation of work orders in optimized way.

It provides sensors for tracking the material on roller table and provides the information to the System for further processing.

Provides solution based on simulation and optimization model. The work order generated by the system based on Yard rules and safety measurements.

Provides sensors for tracking the Transfer Cars and provides the information to the system for further processing.

Provides the simple and meaningful data for material yard management and easy to understand the operations.

Provides 2D and 3D based presentation of Yard. It represents the realistic image of the actual inventory and warehouse situation. It represents clear overview for visualizing complex warehouse situations.

Integration with Level2 and Level3 systems for getting the information required for work order algorithm used for the Material Movement and Stacking.