The Journey
In the era of globalization, Steel Industry is confronting tougher challenges than ever before. Shrinking budgets, new entrants, increasing demands, shortened product life cycles and changing customer mandates places greater pressure on companies to have more accurate information, enabling them to make and communicate decisions across operations. To address these challenges and to remain best in class, it becomes mandatory for Steel manufacturers to implement Manufacturing Execution System (MES) that transforms these challenges into competitive advantage.
Key Drivers
Need for real-time visibility of WIP material

Manual data entry for business systems to derive MIS reports

Lack of information on As-Built and As-Planned material / orders

Mismatch in schedules for production, yard and customer delivery in line with market demand

Real time information of Inventory and efficient Inventory Management.

Longer time to recall / trace quality records for customer complaint handling or repairs

Material genealogy / machine maintenance is not available for dynamic production, planning and scheduling

Need for ad-hoc reporting with queries, such as pending actions on shop floor

Need for accurate product costing information based on material status.
The Transformation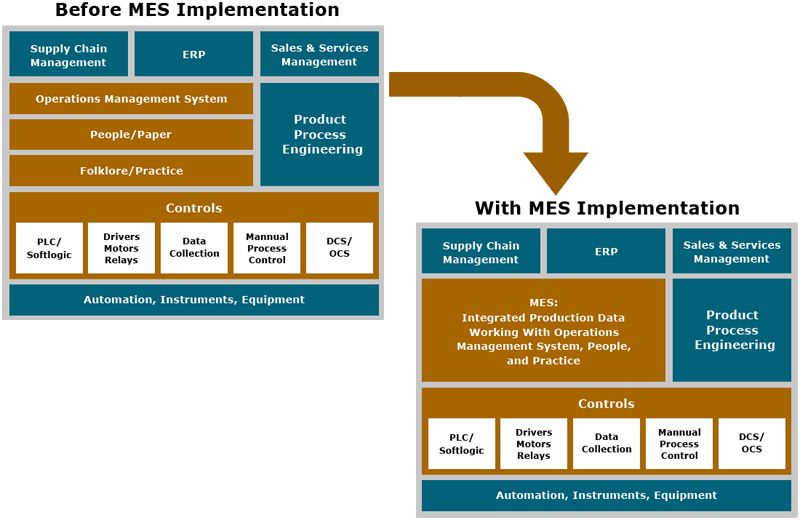 Our Competency
MES Competency comprises consultants with functional knowledge of the Manufacturing sector and IT specialists to implement customer-centric business solutions. Functional knowledge-base covers all process of Steel industries such as Raw Material Handling, Sinter/Pallet, Coke Oven, DRI, BF/Corex, Steel Melt Shop, Hot Rolling, Cold Rolling etc. Technical knowledge-base expertise in J2EE, .NET, Oracle/DB2/SQL, Web Services.
The total experience of MES Competency spans over 8 to 35 Years. mesAPP is USIT's own product and know-how is brought in thru consultants experience and partners.
Over the years, the competency has built a thorough knowledge of the workflows and dynamics of the Steel Manufacturing sector.
MES Verticals